by FitSugar
On Nov. 1, the
New York City Marathon
celebrates not only the fastest endurance runners in the world but its 40th anniversary as well.
Runner's World
was chock-full of information about the race, and it got me all fired up. Here are five things about the marathon I think you will want to know.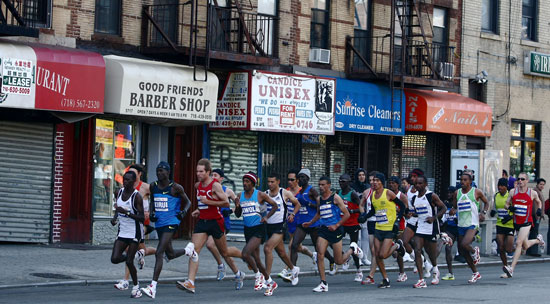 Back in 1970 there were 127 participants running in the first NYC Marathon, all of them American, and the entry fee was only a buck.
This year there will be 40,000 runners participating, and they won their places at the starting line through a lottery. However, 5,000 spots are held for charity programs. Christopher Reeves's son Matthew will be running 26.2 miles to honor his father, the actor who played Superman, as well as to raise money for his father's foundation.
For three more facts, keep reading.
In the inaugural year of the NYC marathon, no women finished. In fact only 55 runners finished. Now 34 percent of the runners are female — that's 12,880 ladies crossing the finish line.
The last year an American topped the podium was 1982, and the runner was Alberto Salazar with a time of 2:09:29. Alberto coaches my favorite runner Kara Goucher. She placed third last year in this race, her first marathon. She's considered a contender for the win this year. Go Kara!
The winner for the first NYC marathon was former firefighter Gary Muhrcke (2:31:00). Before the race, he worked an all-night shift. He plans on racing this year too.