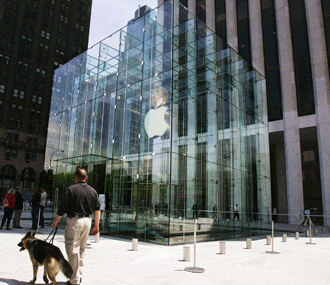 According to a study at Cornell University, the Apple Store on Fifth Avenue in Manhattan is New York City's fifth most photographed landmark. The study used a supercomputer to download and analyze nearly 35 million Flickr photos taken by 300,000 photographers from around the world. The main goal of the project was to organize and label a large collection of data, but they were also able to identify the most-photographed cities and landmarks in the process.
New York City is the top photographed city (with London and San Francisco coming in second and third), while the fifth most photographed place in New York is the Apple Store, coming in behind landmarks like the Empire State Building and Times Square. Most surprising? The store is also the 28th most photographed place in the world. The point of the study was to develop techniques to find places that people find interesting to photograph. Still unclear: whether it's the store's chic design, or just its impressive wares that makes it such a photographic hotspot.

De acuerdo con un estudio de la Cornell University, la Apple Store de la 5th Avenida, en Manhattan, es el edificio más fotografiado de la ciudad. Y el número 28 en todo el mundo.

El estudio está basado en el análisis realizado por una supercomputadora que ha descargado y analizado 35 millones de imágenes del portal Flickr, pertenecientes a 300 mil usuarios de todo el mundo. La principal función de este estudio era crear un software capaz de analizar y etiquetar una cantidad enorme de datos en un tiempo mínimo, pero como podemos ver, el software creado sirve para muchas otras cosas.

Nueva York es la ciudad más fotografiada del mundo por delante de Londres y San Francisco, respectivamente, y en cuanto a la ciudad, a la Apple Store le siguen el Empire State y Times Square.