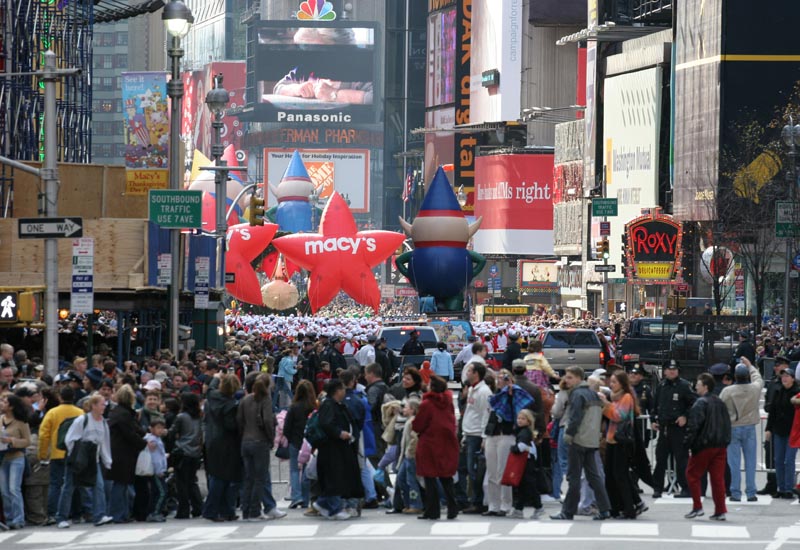 Nothing defines Thanksgiving like the Macy's Thanksgiving Day Parade.

Thursday, November 25, 2010
[EN]
A Thanksgiving institution for 84 years, this parade is one of the most famous holiday events in the world. This amazing and iconic spectacle of celebrities, Broadway performers, enormous balloon creatures and the first Santa of the season can be witnessed in person on this year's new parade route, which will have more street space for viewers than past routes. As it did in the past, the parade begins at 77th Street and Central Park West and proceeds south. The new route sends the parade east on Central Park South, then down Seventh Avenue, where it will then turn east on 42nd Street and finally continue south on Sixth Avenue, here it terminates at the Macy's flagship store on 34th Street and Seventh Avenue.
Nada define mejor el día de acción de gracias que el desfile de MACY's

Jueves 25 de Noviembre de 2010
[ES]
El desfile de acción de gracias patrocinado por los grandes almacenes Macy's de Nueva York son toda una institución en la ciudad, este añoa se cumplen 84 años desde que comenzara a realizarse. Este espectáculo es uno de los que deben ser vistos en persona al menos una vez en la vida. Toda la ciudad se echa a la calle para ver al primer Santa de la navidad, repartiendo regalos. Como se ha hecho desde siempre, comenzará en la calle 77 y Central Park West, dirigiendose hacia el sur por la Séptima avenida hasta la esquina de la calle 42, donde gira hacia la Sexta avenida, y sigue hacia el sur hasta Herald Sq, en la calle 34, en la misma puerta de los famosos almacenes que dan nombre al desfile.

Macy's Herald Square

151 W. 34th St. (at Seventh Ave.)
Manhattan, NY 10001


subway |
E,N,R,W,B,D,F to 34th Street Station
bus |
M34 crosstown bus