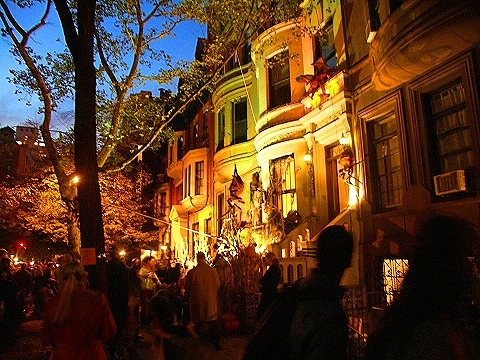 Halloween Eve is a perfect time to visit NYC and the Greenwich Village Halloween Parade (
Monday, October 31, 2011 at 7 p.m.
) the best and the largest public celebration in the nation, also named "The Greatest Event on Earth". The 2011 Village Halloween Parade theme is
The i of the Beholder
, and will be attended by over 2 million people and 45,000 costumed participants, dancers, artists and circus performers, dozens of floats bearing live bands and other musical and performing acts.
The parade will march from Spring Street to 16th Street along 6th Avenue.
For Participants: Line-up for participants begins on 6th Avenue south of Spring Street and north of Canal Street at 6:30PM. You can ONLY enter the line-up on 6th Avenue from the East and South between Canal and Spring Streets.
Halloween Parade and Pumpkin Sail
Sunday, October 25 3:00 pm - 6:00 pm Rain or shine. At the Charles A. Dana Discovery Center (Located inside the Park at 110th Street between Fifth and Lenox Avenues) FREE! All ages. In the mood for some ghosts, ghouls and good Halloween fun? Come down the the Charles A. Dana Discovery Center for some crafts, eerie music, spooky storytelling and a surprise appearance by Frankenstien! The costume parade begins at 5:00 pm, so dress scary! Then watch NYC's largest pumpkin regatta drift by on the Harlem Meer at dusk. You can bring your own 5-10 lb jack-o-lantern by 5:00 pm to participate in the pumpkin sail. No advance registration .
Halloween en Nueva York es todo un espectáculo y el desfile del Greenwich Village (Greenwich Village Halloween Parade) es el mejor y más multitudinario de la ciudad, que este año cumplirá 39 ediciones. Es el más famoso por su diversidad y el libre espíritu, atrae a aproximadamente 2 millones de personas, de las cuales unas 45.000 se pasean disfrazados durante horas. Transcurre por la Sexta Avenida, entre Spring Street y la 21 St. Dará comienzo a las 19.00 del Lunes 31 de Octubre, aunque la gente comienza a concentrarse más de una hora de antelación.
Además del Greenwich Village Halloween Parade existe otro desfile muy recomendable para visitar y observar, es el Central Park Halloween Parade and Pumpkin Sail, en el cual se lanzan al lago Harlem Meer unas barquitas con calabazas talladas con motivos de la fiesta. Una gran fiesta para niños y mayores. Se realiza el Domingo 25 de Octubre, entre las 3.00 p.m. y las 6.00 p.m.