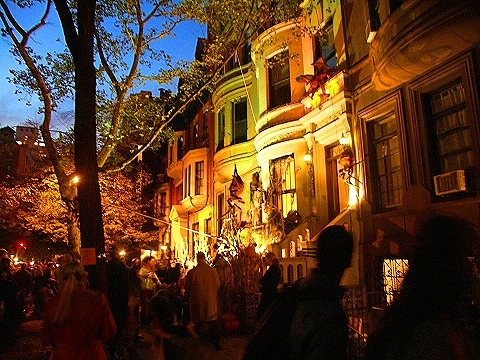 Halloween
Eve is a perfect time to visit NYC and the
Greenwich Village Halloween Parade
the best and the largest public celebration in US, also named "The Greatest Event on Earth". The Village Halloween Parade will be attended by thousand costumed participants, dancers, artists and circus performers, dozens of floats bearing live bands and other musical and performing acts.
Where
: Heading up on 6th Avenue from Spring St to 16th St
When
: Thursday, October 31, at 7 p.m. Line-up for those who want to be IN the Parade begins at 6:30 p.m.
Halloween en Nueva York es todo un espectáculo
y el desfile del Greenwich Village (
Greenwich Village Halloween Parade
) es el mejor y más multitudinario de la ciudad, que este año cumplirá 40 ediciones. Es el más famoso por su diversidad y el libre espíritu, atrae a millones de personas, de las cuales
decenas de miles se pasean disfrazados durante horas
. Transcurre por la Sexta Avenida, entre Spring Street y la calle 16. Dará comienzo a las 19.00 del Jueves 31 de Octubre, aunque la gente comienza a concentrarse más de una hora de antelación.
Nueva York
estará engalanda con motivos misteriosos, y prácticamente todos los lugares tendrán sus propias actividades.